CFPP-A1
Automatic cold filter plugging point tester
Any color option! We will support your corporate style!
Innovative cooling system that does not require any external cryostat
Smart analytical head recognition system with automatic calibration data loading
The direct temperature setting feature enables the analyzer to go to operating mode quickly before beginning a test
Built-in system for sample defrosting at the end of analysis makes it possible to reduce the preparation time to the next test run
Separate cleaning station of analytical head
Automatic filter cleaning by means of special mode
Automatic repeatability calculation of measurement results
Creating user-defined test programs
Linear and stepped sample cooling
Remote update of integrated software, data export to LIMS via Ethernet
Suitable for use in mobile laboratories
European CE Certificate
Confirms that the products of the Techno company comply with all the requirements of the directives and standards of the European Union, and they are absolutely safe for the health of both consumers and the environment.
The CE certificate of conformity is issued on the basis of tests carried out in independent laboratories and certification bodies of the EU and gives the right to apply appropriate labeling to products. This marking provides an opportunity to sell your goods on the territory of the EU countries because it is a guarantee of the quality and safety of our products.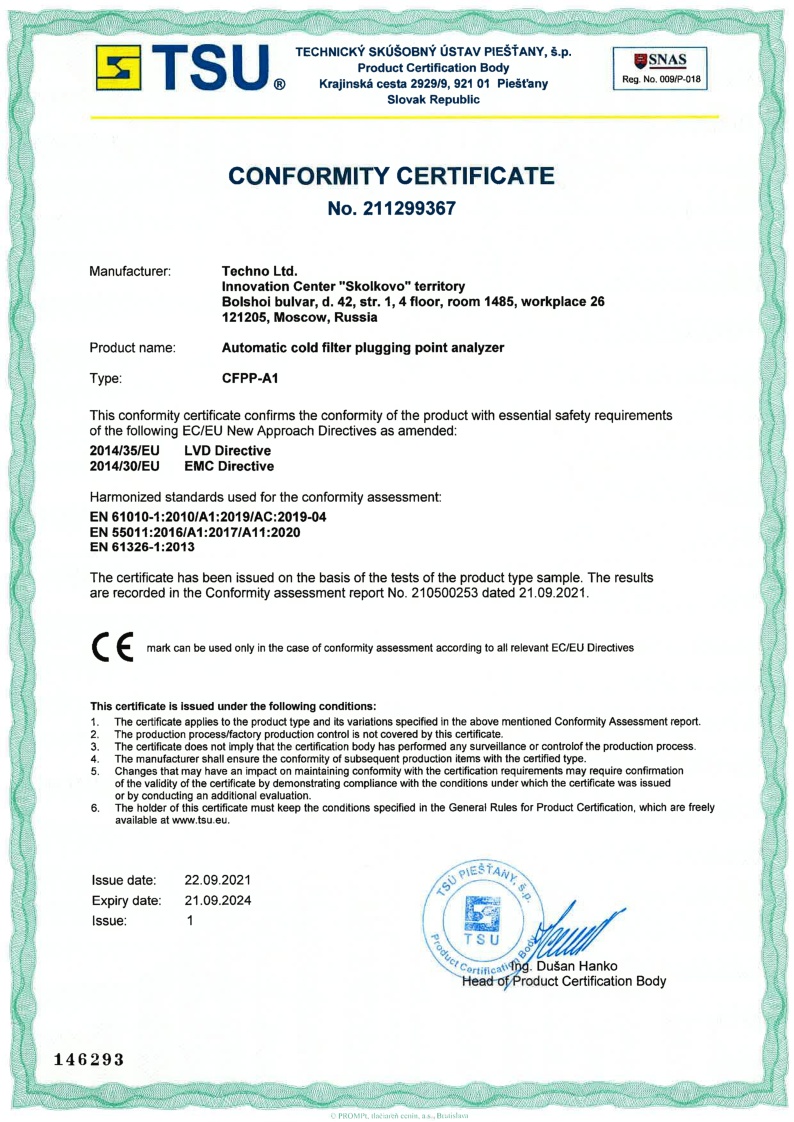 Specification
Methods

EN 116, IP 309, ASTM D6371, JIS K 2288, EN 16329, GOST 22254, GOST R 54269, JIS K 2288

Sample detection

Top and bottom infrared sensors, special design to prevent icing at low temperatures

Calibration

Automatic sensor calibration: sample temperature, bath temperature and vacuum.

Bath temperature range

+65…-105 °С

Vacuum

Automatic vacuum control with the ability to set a complex profile

Method customization options

number of cooling "stages"
cooling "stage" temperatures
Aspiration time and frequency
complex vacuum profile

Cooling profile

staged or linear cooling method

Temperature measurement

Pt100, Class A, automatic identification and loading of calibration parameters

Cleaning

Programmable with cleaning check function. Possibility of cleaning at the rinsing station and in the cooling block

Custom functions

7 inch color touch screen
Storage for up to 2000 experiments
The ability to transfer data to LIMS
Keyboard and mouse connectivity
Barcode scanner connectivity

Power

100-240V, 50/60 Hz, 300W

Dimensions WxDxH

240х500х400 mm

Weight

25 kg

Connections

1 × Ethernet, 4 × USB, Bluetooth, wifi

Accessories

Metal sample temperature sensor, printer, barcode scanner